Discover more from MADV - Mobile. Ad.ventures
App marketing: news curation & hard opinions by @thomasbcn
Over 2,000 subscribers
MADV 002 - Mobile.Ad.ventures is back and is going public...
... its URL https://madv.io at least. October 1-10
Welcome to MADV - This is an unregular newsletter curating recent trends in mobile (app) marketing. For more regular updates, follow me on twitter @thomascbn…
Previously, on MADV… S01E01 was good for feedback and last minute tweaks (emoji yay! typo nay!). This new episode covers October 1-9th. I tried to be shorter, but I failed again.


🤓
Must reads!
When I don't find 10x content, I'll just keep this blank.
---
🤳
First party content
This newsletter features primarily other people's content, on purpose. Once in a while, I do publish stuff myself:
Nothing new this week, but I'm preparing 2 fresh pieces of content, one of which is a prezo on subscription apps to be showcased live at MAMASaoPaolo on Wednesday 15/10 (free signup). As usual with public event, I'll post the slides on my Slideshare, feel free to browse older ones in the meantime.
---
🔥
What's hot, October 2020
Up & to the right: SensorTower was quick to release his Q3 figures to beat AppAnnie to the punch. Some interesting highlights:

Store revenue keeps soaring with $19b for the Appstore alone (not factoring taxes & refunds): +10% from Q2 and +31% from last year

The AppStore ARPD is over 6x higher than the PlayStore's (and the gap is even bigger from non gaming, but that's not disclosed)

TikTok is killing it on IAP, not even mentioning its soaring ad revenue (also: now #3 non-porn web domain according to Cloudflare!)

9/10 of the top grossing are video/streaming. The outlier is Tinder.

iOS App Clips are killing it. My friend Leopold saw his Motivation App climb to the top #5 spot of the Appstore (Hat tip from the private subclub.app). Branch's mobile growth newsletter also mentions other nice examples that you might check for inspiration: Emoji Sudoku, Scribble Together, Parcel app, CardPointers, SmartGym, ChibiStudio, SignEasy's eSignature, Doc Scanner

The Antitrust Subcommittee has released its report on big tech, and it's quite straight to the point. Two excellent sources covering the crunchy bits of the 449 pages report are the highly recommended Matthew Stoller's newsletter BIG and Alisson Schiff's piece on AdExchanger. No action is being taken yet (the EU is also all-fart no-poo on this, while both India and China launched new probes against Google), but the contrast with the patronizing tone of monopolists makes it extremely insightful.

What does this have to do with apps anyway? I published a thread on the app-world related quotes, once again highlighting how Google is abusing monopolies to create further moats and undermine any competition. I still have hopes that in the long term either Android, Youtube, Admob or all three will get splitted from Search and we can all forget the UAC nightmares.

Combining the Sensortower & #antitrust news into one:

Eric's MDM Syndicate announced its first investment in @maorsa's INCRMNTL. I couldn't put my hands on the beta, but this is very promising in the perspective of the death of deterministic attribution.

Talking attribution, I think I forget to mention last week that 28-days attribution is dead on FB

Sure, you can use the well-hidden exclusion lists, but how many advertisers have been buying their own cross-promo traffic for years?

Lots of debate in France around adoption: Barcelona-based Pickaso digged into tracing apps download figures:
---
☑️
The subscription corner
Adjacent.vc's Nico has a 2-tweets post on subscription pricing well worth a look:
---
💀 The IDFA corner
I haven't heard many (new) news around IDFA this week for once… but Apple reviewers not being aware that the IDFA & ATT changes are postponed until January is biting some devs who can't release… In this example, it happened for 2 releases in a row. FAIL.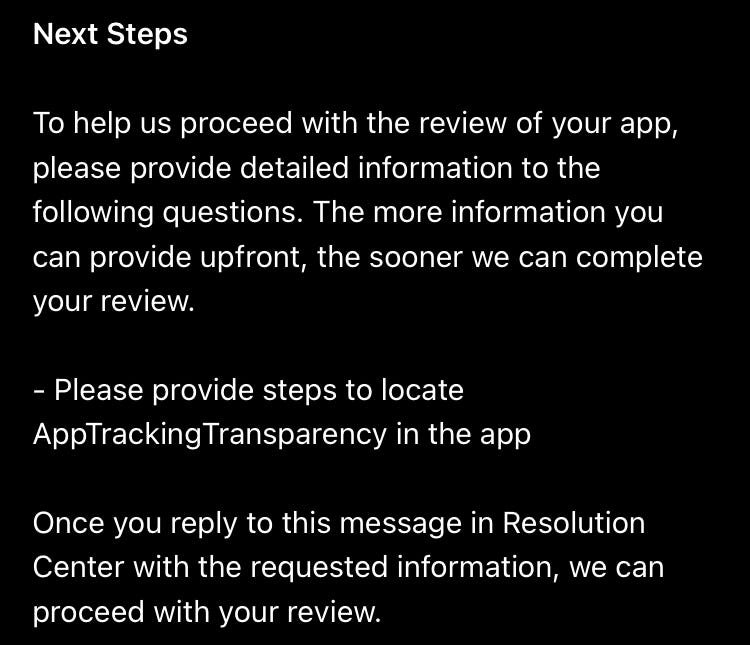 Also a reminder: if you're testing ATT implementation to measure consent rate, be very careful to do it on a small sample (or better, use a fake/soft prompt instead! Which.is against guidelines btw), as firing ATT will block you from accessing IDFA from the (majority?) of non-consenters.
---
💡
Worth following
aka: where I get my sources from
---
Share the buzz & tell your friends
See you next week - or later, if I can't make it.
Feedback: @thomasbcn / thomasbcna -at - gmail